osmofolia
Regular price
Sale price
$8.00 USD
Unit price
per
Sale
Sold out
Each sample vial contains 2ml perfume oil of the scent of your choice, with a screw cap. Please visit our master scent list or the individual scent listings to see the fragrance notes & ingredients.

Our artisan fragrance products, such as this perfume oil, are final sale and not eligible for returns.

Samples are restocked monthly. To be notified when a particular scent is back in stock, click the button below for an email notification!
If a scent that you're interested in is out of stock, you may be able to find it at Ajevie. We partner with them to provide monthly sample restocks, so if a scent isn't available here, their shop is another great option.
✧✦✧
HOW TO USE

When your perfume oil arrives, don't smell it straight out of the bottle! Perfume oil is meant to bloom on skin, and not all of the scent notes will be smellable out of the bottle.

First, patch test by applying the oil to a small patch of skin, like your wrist or the back of your hand. If there are any signs of irritation, discontinue use and wash off the oil!

Once you're ready to use the perfume oil, apply a generous amount to your pulse points (wrists, neck, inside of elbows, behind the ears, behind the knees).

If you like, rub the oil in, or wait until it starts to absorb into your skin.

Breathe in deeply to smell your new fragrance, and enjoy the atmosphere it creates!

Please note that these are not fragrance oils! These are perfume oils, meaning they are designed for use on skin.


✧✦✧


Ingredients: Fractionated coconut oil, isopropyl myristate, fragrance, vitamin E oil, rosemary antioxidant CO2. Please visit individual listing pages for more detail on the ingredients of each scent.

Share
View full details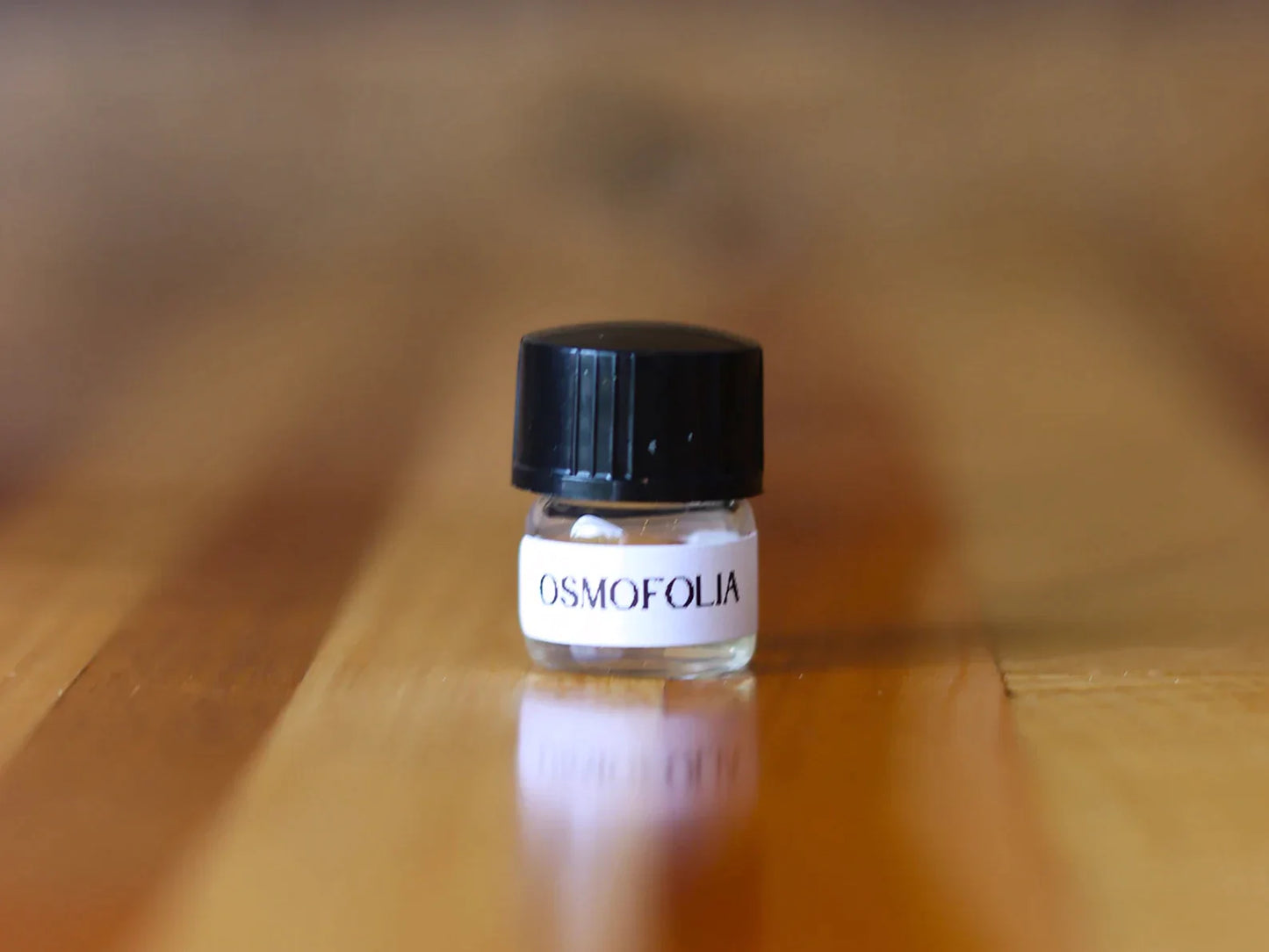 Lovely, Uniquely Intimate Scents
I have been searching high and low for unique, wearable scents and Osmofolia absolutely nails what I've been looking for. I adore the thoughtful scent blends and intimacy of each idea captured in every bottle. I highly recommend Geosmin and Waxing Crescent, my partner and I have been reaching for them often.
The only perfume I want to wear
I learned of Osmofolia when looking for independent perfumeries for a friend, and I fell in love with the descriptions.
I ordered three samples for myself: Cabin, Lazy River and Farm Boy. I received free samples of Blackwater Lake and Olfactorium.
I loved them ALL. Lazy River is a day at the pool. Farm Boy is a trip to the farmer's market on a spring day. My favorite, Cabin, is a walk in the Wisconsin woods. I don't know how Osmofolia did it, but they bottled the Midwest and I can't get enough.
Order from Osmofolia. You won't be disappointed.
Perfect perfume
I bought 5 samples (And Life and the Fields, Dianthus, Nimbostratus, Stratus, & Sungrown) and all of them are PHENOMENAL. Exactly as described yet somehow better than I thought they'd be. Cannot recommend these perfumes more highly!!
Scents are spot on!
My friends and I ordered several different scents in the sample bottle size and we were not disappointed! The scents are exactly as they were described and we love all of our choices.