OSMOFOLIA
Regular price
Sale price
$21.00 USD
Unit price
per
Sale
Sold out
Wispy, painterly cirrus clouds that float high in the sky above: a basket of white lilacs and prim heliotrope, handfuls of juicy blueberries, sugary fluffs of fairy floss (cotton candy), papery orris, freezing cold air, and a painter's empty canvas.

TOP/WET: sugar ✦ cold air ✦ blueberries
MID/HEART: cotton candy ✦ white lilac ✦ heliotrope
BASE/DRYDOWN: paper ✦ orris ✦ humidity


Offered in a 5ml glass bottle with your choice of closure type (rollerball or open neck).

Our artisan fragrance products, such as this perfume oil, are final sale and not eligible for returns. If you aren't sure about a full size, we recommend trying a sample!


✧✦✧


HOW TO USE

When your perfume oil arrives, don't smell it straight out of the bottle! Perfume oil is meant to bloom on skin, and not all of the scent notes will be smellable out of the bottle.

First, patch test by applying the oil to a small patch of skin, like your wrist or the back of your hand. If there are any signs of irritation, discontinue use and wash off the oil!

Once you're ready to use the perfume oil, apply a generous amount to your pulse points (wrists, neck, inside of elbows, behind the ears, behind the knees).

If you like, rub the oil in, or wait until it starts to absorb into your skin.

Breathe in deeply to smell your new fragrance, and enjoy the atmosphere it creates!


✧✦✧


Please note that these are not fragrance oils! These are perfume oils, meaning they are designed for use on skin.
Not suitable for children, pets, oil diffusers, or for those who are pregnant or nursing. IPM perfume oil base available on request—please send us a message!

✧✦✧


Ingredients: Fractionated coconut oil, isopropyl myristate, fragrance, vitamin E oil, rosemary antioxidant CO2, 9-decenoic acid, vanillin, ethyl vanillin, Orris Givco 204/20, ionone alpha, methyl ionone gamma, cedrol, benzaldehyde, Ambergris T Oliffac, Heliotropex N, adoxal, veratraldehyde, Coumarex DB, furaneol, menthone, freskomenthe, aldehyde C-12 MNA, floralozone, auranone, amyl salicylate, hedione, Jasmin Specialty, habanolide, Lilas Mauve, ethyl maltol, veratrole, linalool, geraniol, hay absolute, nerolidol, methyl anthranilate, clove bud essential oil, iso e super, homofuronol, Lindenblossom Givco 151/7, jasmine grandiflorum absolute, phenyl ethyl alcohol, hydroxycitronellal, jasmine sambac absolute, benzyl alcohol, terpineol alpha, anisic aldehyde, cinnamic alcohol, benzyl benzoate, methyl diantilis, anisyl alcohol, lilytol, ylang ylang essential oil, cis-3-hexenol, benzyl acetate, raspberry ketone, damascenone total, blackcurrant bud absolute, ionone beta, isobutyl isovalerate, macrolide, auralva, cis-3-hexenyl salicylate, helional, ethyl butyrate. Contains natural extracts of jasmine grandiflorum, jasmine sambac, ylang ylang, hay, blackcurrant bud, and clove bud.

Share
View full details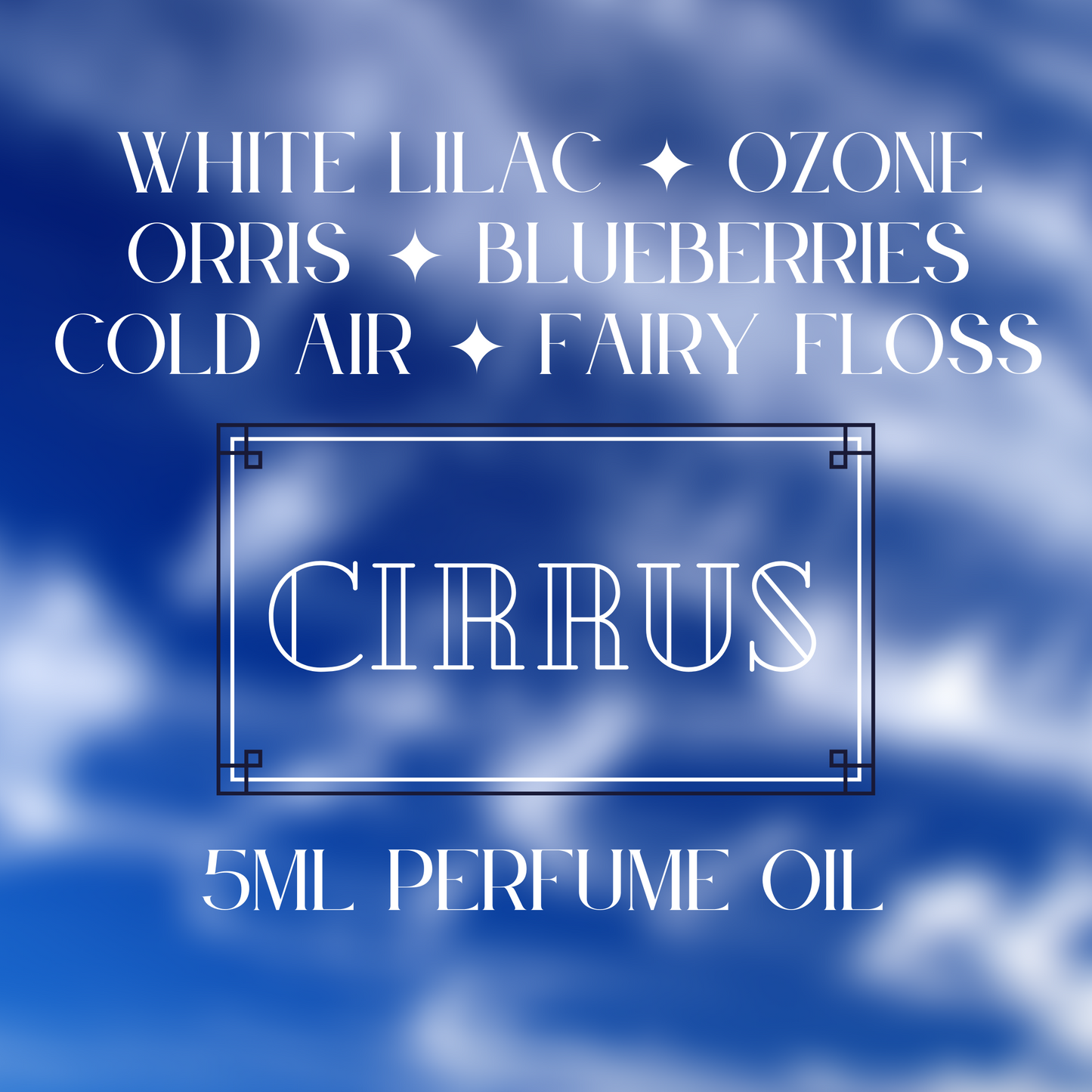 Complex
I love this scent!!! This is the first scent I've ever tried from Osmofolia and it was delicious. I bought it because I wanted something completely different than anything I have in my collection. I will say, the top notes are not 100% for me personally, so at first smell I was really confused. However, the dry down is amazing. It's a sweet scent that dries down into a smokey scent that's perfect for a cool spring day. I have never smelled anything like this, and I am not even into sugary scents!!! Amazing
Strangelove
I really have no idea why I ordered this, other than I'm a sucker for lilac. But! It's got this soft, dry, fluffy sweetness. It starts out strangely toasted marshmallow feeling? Or like creme brulee. But there's definitely something... blue about it. It smells pale blue, cornflower blue. I wouldn't name blueberry without seeing it in the notes, but I usually only associate blueberries with baked goods. As it dries it makes me think of iridescent things, like soap bubbles. If those lovely pastel cotton candy sunsets that fade so quickly to dusky darkness had a smell, this would be it. It smells like a fancy garden tea party scent. Like I should be wearing elaborate, pastel ruffly gowns and drinking out of hand painted bone china. Not my vibe at all but I love it?? I keep thinking about it?? What is happening???