OSMOFOLIA
Regular price
Sale price
$20.00 USD
Unit price
per
Sale
Sold out
Smoky Indonesian vetiver, resinous white oud, agarwood chips, white grapefruit peel, and hints of deer musk accord. [Vegan.]
TOP/WET: white grapefruit
MID/HEART: agarwood chips ✦ deer musk accord
BASE/DRYDOWN: oud ✦ vetiver ✦ smoke
Our artisan fragrance products, such as this solid fragrance, are final sale and not eligible for returns. If you aren't sure about a full size, we recommend trying a sample!


✧✦✧


HOW TO USE

When applying solid fragrances, make sure to use clean hands or clean tools in order to extend the shelf life of the balm.

First, patch test by applying the solid fragrance to a small patch of skin, like your wrist or the back of your hand. If there are any signs of irritation, discontinue use and wash off the balm.

Once you're ready to use the solid fragrance, apply a generous amount to your pulse points (wrists, neck, inside of elbows, behind the ears, behind the knees).

If you like, rub the balm in, or wait until it starts to absorb into your skin.

Breathe in deeply to smell your new fragrance, and enjoy the atmosphere it creates!


✧✦✧


This listing is for 15g of solid fragrance in a 1oz tin.

Please note that this product is somewhere between a cologne and a perfume, which means the concentration of scent is lower than in a perfume oil. However, the heavier nature of the balm (compared to an oil) means that the fragrance lasts longer through the day.
Not suitable for children, pets, oil diffusers, or for those who are pregnant or nursing. Coconut-free base available on request.
✧✦✧
Ingredients: Fractionated coconut oil, isopropyl myristate, fragrance, vitamin E oil, rosemary antioxidant CO2, macrolide, iso e super, Black Agar Givco 215, petitgrain essential oil, dihydromyrcenol, vetiver java essential oil, Haitian vetiver essential oil, hedione, sustainably harvested agarwood oil, velvione, dimethyl octenone, Clean Salt Key Accord, tonquitone, romandolide, muscenone, methyl laitone, linalool, citral.
Contains natural extracts of vetiver, agarwood, and petitgrain.
Share
View full details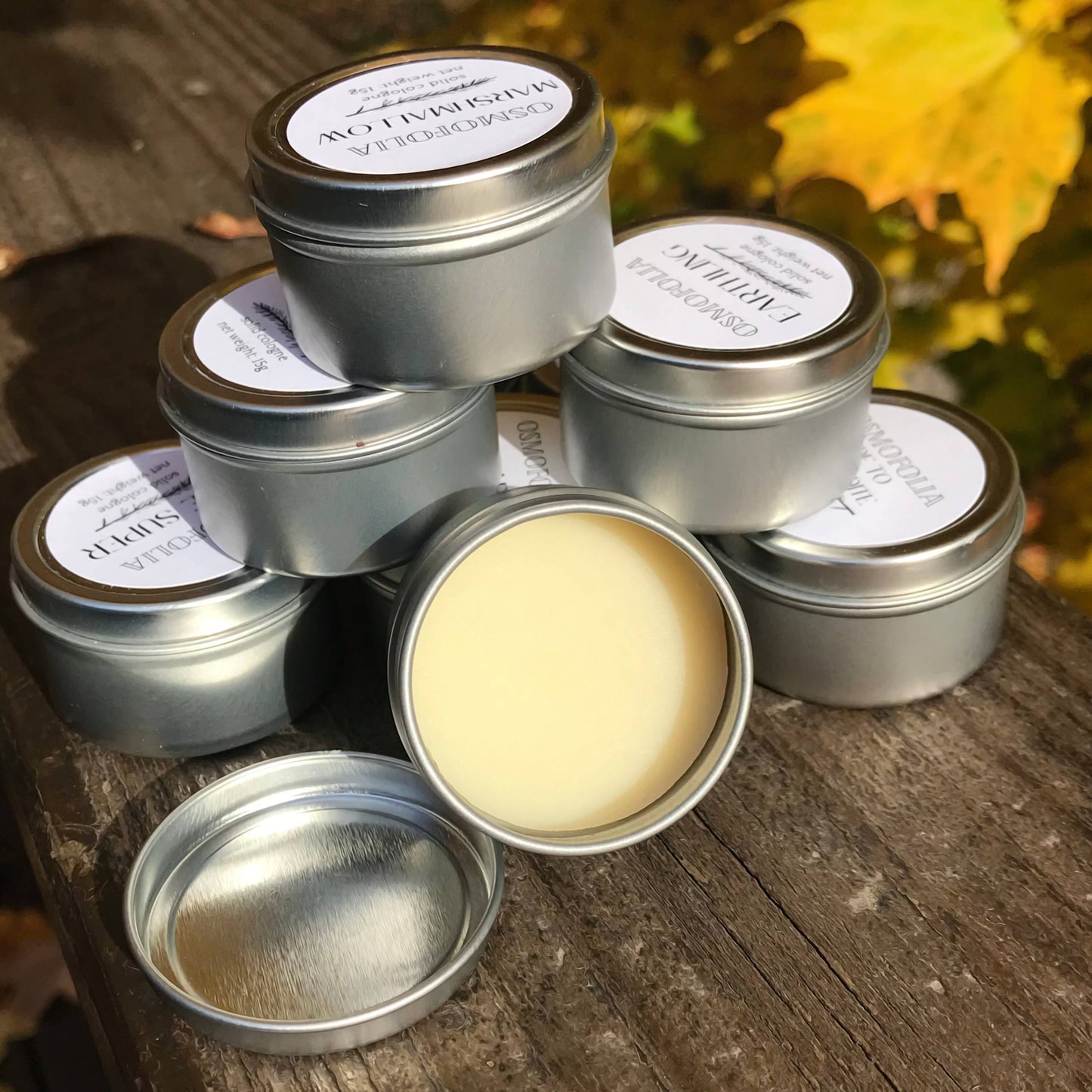 Heartwood
I feel like the roll on has more fragrance, but I love them both.
My oldest son just got married and we drove from Missouri to California and back and my sister n law rode with us and she fell in love with my heartwood rollon!