OSMOFOLIA
Regular price
Sale price
$21.00 USD
Unit price
per
Sale
Sold out
A synesthesia perfume inspired by a color. Sapphire ocean blue with flashes of turquoise and glistening white: osmanthus, ambergris, sea salt, ocean water, tuberose, and cucumber. [Vegan.]

TOP/WET: sea salt ✦ ocean water
MID/HEART: osmanthus ✦ ambergris
BASE/DRYDOWN: tuberose ✦ cucumber


Offered in a 5ml glass bottle with your choice of closure type (rollerball or open neck).

Our artisan fragrance products, such as this perfume oil, are final sale and not eligible for returns. If you aren't sure about a full size, we recommend trying a sample!


✧✦✧


HOW TO USE

When your perfume oil arrives, don't smell it straight out of the bottle! Perfume oil is meant to bloom on skin, and not all of the scent notes will be smellable out of the bottle.

First, patch test by applying the oil to a small patch of skin, like your wrist or the back of your hand. If there are any signs of irritation, discontinue use and wash off the oil!

Once you're ready to use the perfume oil, apply a generous amount to your pulse points (wrists, neck, inside of elbows, behind the ears, behind the knees).

If you like, rub the oil in, or wait until it starts to absorb into your skin.

Breathe in deeply to smell your new fragrance, and enjoy the atmosphere it creates!


✧✦✧


Please note that these are not fragrance oils! These are perfume oils, meaning they are designed for use on skin.
Not suitable for children, pets, oil diffusers, or for those who are pregnant or nursing. IPM perfume oil base available on request—please send us a message!

✧✦✧


Ingredients: Fractionated coconut oil, isopropyl myristate, fragrance, vitamin E oil, rosemary antioxidant CO2, ambergris oliffac, maritima, calone, cascalone, dupical, ultrazur, exaltolide, silvanone supra, ambrettolide, romandolide, geosmin, seaweed absolute, blue chamomile CO2, PK Osmanthus, melonal, Clean Salt Key Accord, PK Tuberose, hedione, iso e super, meijiff, methyl laitone, velvione, raspberry ketone, damascenone total, blackcurrant bud absolute, citral, petitgrain essential oil, ionone beta, isobutyl isovalerate, macrolide, auralva, cis-3-hexenyl salicylate, dihydromyrcenol, linalool, helional, ethyl butyrate, linalool, nerolidol, hay absolute, dimethyl octenone, orange terpenes. Contains natural extracts of seaweed, blue chamomile, blackcurrant bud, petitgrain, and hay.

Share
View full details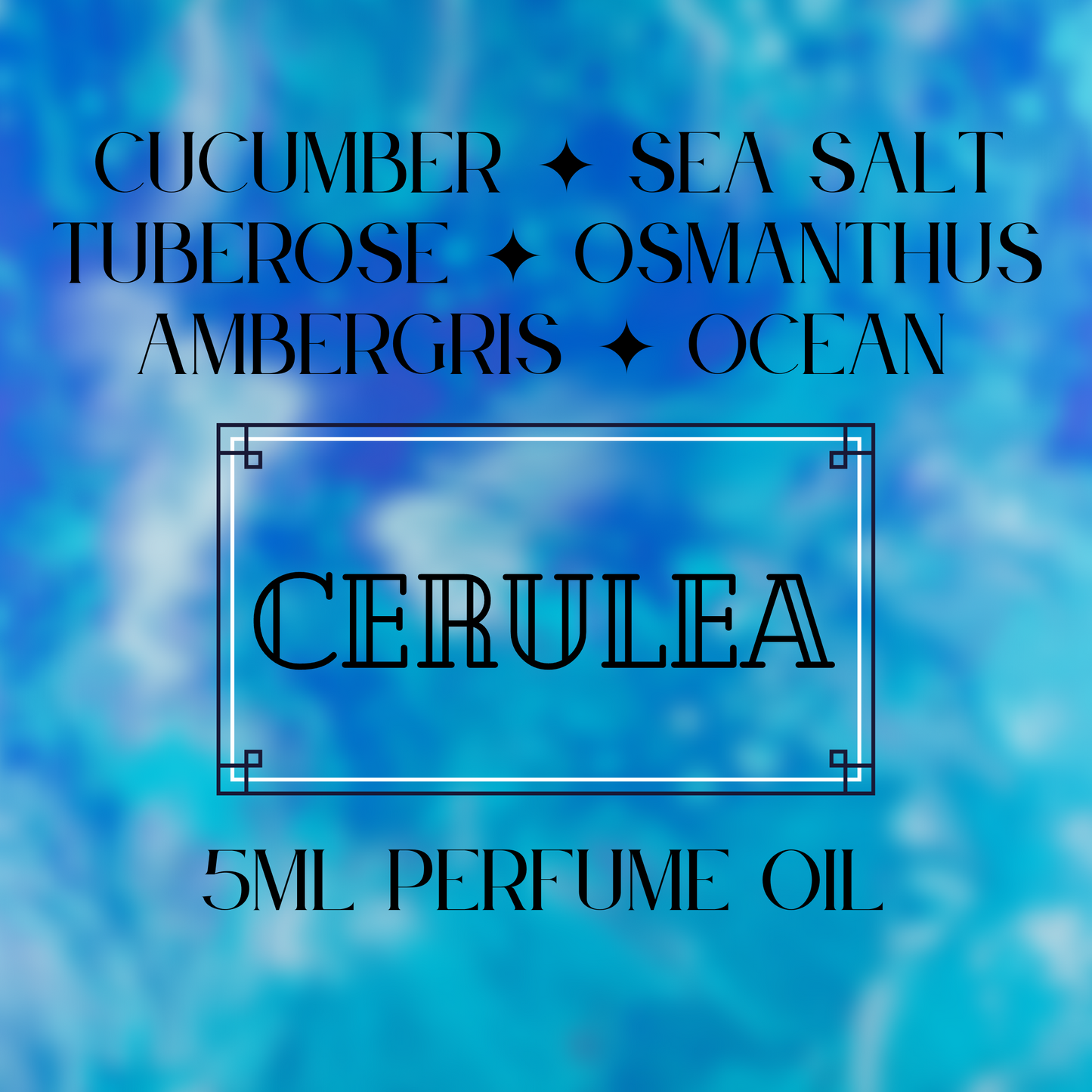 Incredible
I ordered a sample to just try something new that I wouldn't usually go for, and Cerulea caught me totally off guard by how amazing and unexpectedly profound it is. It actually keeps spontaneously bringing me to tears (in a pleasant way), which is a totally wild reaction but kind of rad. I didn't re-look at the scent profile before I smelled the sample, but I without knowing what to anticipate, I was totally caught in the feeling of being immersed in a light, cool ocean breeze and feeling free and massively unburdened -- my chest feels open and breathing feels so peaceful. It feels like magic, and it's just such a cool example of how smells and art can have such a unique affect on individuals... and it's also kind of humourous to me how this $11 sample bottle feels like it weirdly healed me more than a $170 therapy session ;) 20/10 scent experience!