osmofolia
Regular price
Sale price
$49.00 USD
Unit price
per
Sale
Sold out
This sample set contains 7 screw-top vials with 2ml perfume oil each. This sampler set is a great way to try out the scents from the CLOUDGAZER collection:
✦ALTOCUMULUS: Golden altocumulus clouds glowing in a beach sunset: sugary lemon cotton candy, bleached beach shells, humidity clinging to sunscreened skin, and a precious chunk of ambergris, fading into darkness and evening dew.
✦CIRRUS: Wispy, painterly cirrus clouds that float high in the sky above: a basket of white lilacs and prim heliotrope, handfuls of juicy blueberries, sugary fluffs of fairy floss (cotton candy), papery orris, freezing cold air, and a painter's empty canvas.
✦CUMULUS: The classic subject of childhood drawings and vivid imaginations, the cumulus cloud: fluffy steamed white rice, Alishan-grown white tea, soft white mimosas, sugared musk, crisp fresh air accord, balsamic vanilla orchid, orris root powder, and petrichor.
✦NACREOUS: Shimmering mother-of-pearl nacreous clouds in the bitter cold of a high latitude winter: glittering ice crystals, yellow and pink plumeria blossoms, a chilly breath of ozonic air, snow-dusted fir trees, and frozen coconut.
✦NIMBOSTRATUS: Low-lying dark nimbostratus clouds and a torrential downpour of rain: black tea, rain-drenched soil, dewy violets, inky vetiver, and ominous black clouds.
✦PYROCUMULUS: Towering pyrocumulus clouds blooming above a volcanic eruption: thick smoke, ashen orris, charred and splintered guaiacwood, golden frankincense resin, crimson blood orange juice, white-hot amber, and scorched soil.
✦STRATUS: Stratus clouds drifting above a misty forest: trodden stems in damp soil, silvery osmanthus petals, stones slick with moisture, a lingering trail of deer musk, and never-ending fog.
Each sample vial contains 1ml perfume oil of the scent of your choice. Please visit our master scent list or the individual scent listings to see the fragrance notes & ingredients.
Our artisan fragrance products, such as this perfume oil, are final sale and not eligible for returns.


✧✦✧
HOW TO USE

When your perfume oil arrives, don't smell it straight out of the bottle! Perfume oil is meant to bloom on skin, and not all of the scent notes will be smellable out of the bottle.

First, patch test by applying the oil to a small patch of skin, like your wrist or the back of your hand. If there are any signs of irritation, discontinue use and wash off the oil!

Once you're ready to use the perfume oil, apply a generous amount to your pulse points (wrists, neck, inside of elbows, behind the ears, behind the knees).

If you like, rub the oil in, or wait until it starts to absorb into your skin.

Breathe in deeply to smell your new fragrance, and enjoy the atmosphere it creates!


✧✦✧


This listing is for seven 2ml vials of perfume oil, with screw caps.

Please note that these are not fragrance oils! These are perfume oils, meaning they are designed for use on skin.

Not suitable for children, pets, oil diffusers, or for those who are pregnant or nursing. IPM perfume oil base available on request.


✧✦✧


Ingredients: Fractionated coconut oil, isopropyl myristate, fragrance, vitamin E oil, rosemary antioxidant CO2. Please visit individual listing pages for more detail on the ingredients of each scent.

Share
View full details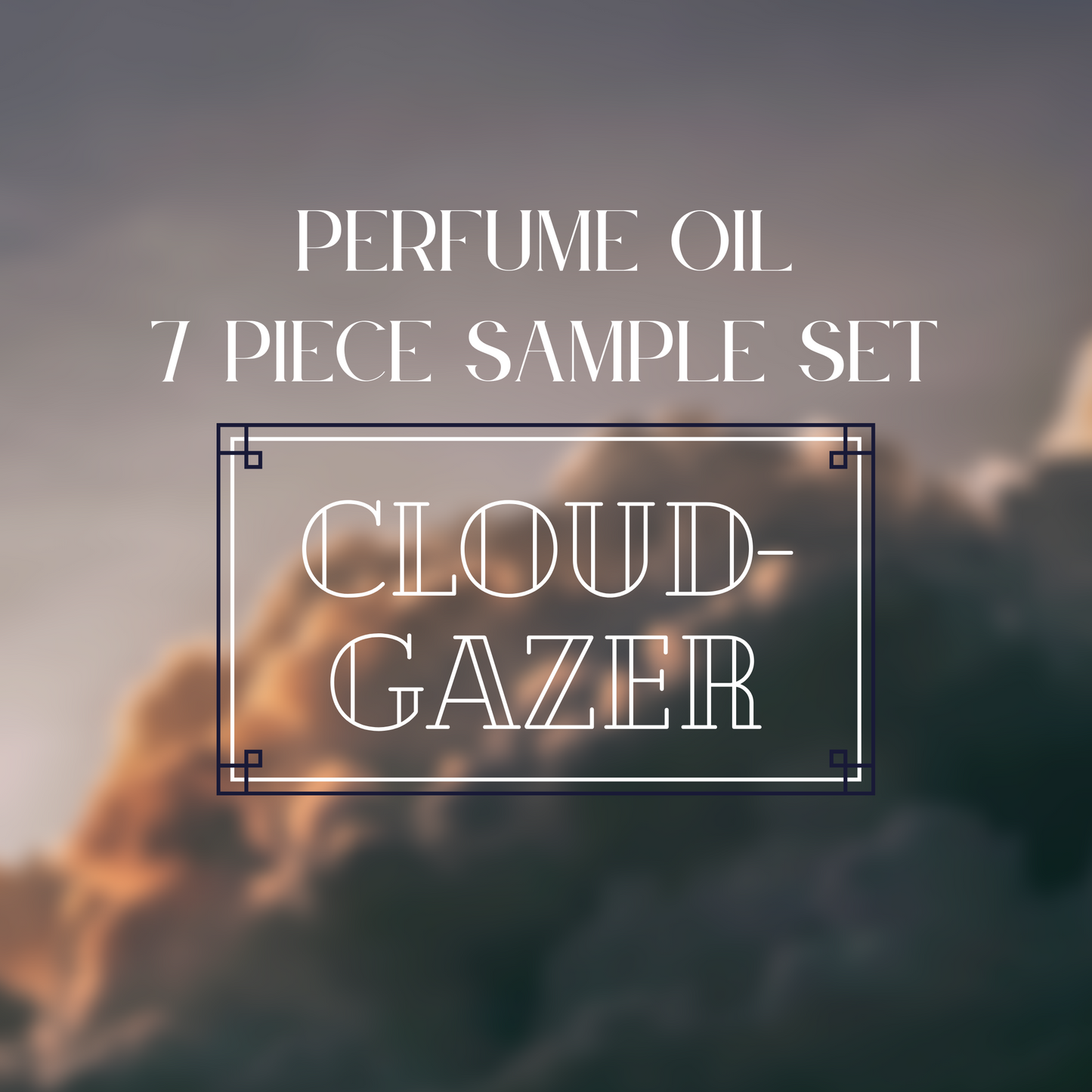 Loved it
I loved all of the samples in this collection. Pyrocumulus really surprised me (in a good way)!