osmofolia
Regular price
Sale price
$42.00 USD
Unit price
per
Sale
Sold out
This sample set contains 6 screw-top vials with 2ml perfume oil each. This sampler set is for 6 of our green perfumes:
✦CABIN: An early morning in the cabin, surrounded by Minnesotan evergreens: herbacious lavender, fresh rain, a cup of black coffee with a splash of vanilla extract, towering white cedar trees, red pine bark, and spindly black spruce needles.
✦I AND THOU: A tree stands before you in the dappled sunlight. Fluttering birch tree leaves, forest green grass, and pine needles provide the greenness of the forest, while pine, iso e super, cedar, and sandalwood depict the weathered wood, and clary sage, clearwood, and vetiver ground the tree roots. Inspired by Martin Buber's philosophical contemplation of I-Thou relations.
✦MATCHA: Nutty, seaweedy, grassy, powdery, and green. A non-milky, non-sugared matcha single note.
✦ORAN: A synesthesia perfume inspired by a color. Lush jade green with blots of white and speckles of olive: fresh foliage, galbanum, coconut water, green cardamom pods, and jasmine sambac.
✦SELENICEREUS: A pair of selenicereus cactus vines, one in bloom and one with fruit. Wafts of red dragonfruit and white dragonfruit, large white blossoms of cactus moonflower, humidity in the air, and sturdy cactus and fig leaves.
✦SUNGROWN: A summer day in our small forest town: fresh cut grass, wild blueberries, dandelions, mimosas, patchouli, and distant bonfire smoke.
Each sample vial contains 2ml perfume oil of the scent of your choice. Please visit our master scent list or the individual scent listings to see the fragrance notes & ingredients.
Our artisan fragrance products, such as this perfume oil, are final sale and not eligible for returns.
✧✦✧
HOW TO USE

When your perfume oil arrives, don't smell it straight out of the bottle! Perfume oil is meant to bloom on skin, and not all of the scent notes will be smellable out of the bottle.

First, patch test by applying the oil to a small patch of skin, like your wrist or the back of your hand. If there are any signs of irritation, discontinue use and wash off the oil!

Once you're ready to use the perfume oil, apply a generous amount to your pulse points (wrists, neck, inside of elbows, behind the ears, behind the knees).

If you like, rub the oil in, or wait until it starts to absorb into your skin.

Breathe in deeply to smell your new fragrance, and enjoy the atmosphere it creates!


✧✦✧


This listing is for six 2ml vials of perfume oil, with screw caps.

Please note that these are not fragrance oils! These are perfume oils, meaning they are designed for use on skin.


✧✦✧


Ingredients: Fractionated coconut oil, isopropyl myristate, fragrance, vitamin E oil, rosemary antioxidant CO2. Please visit individual listing pages for more detail on the ingredients of each scent.

Share
View full details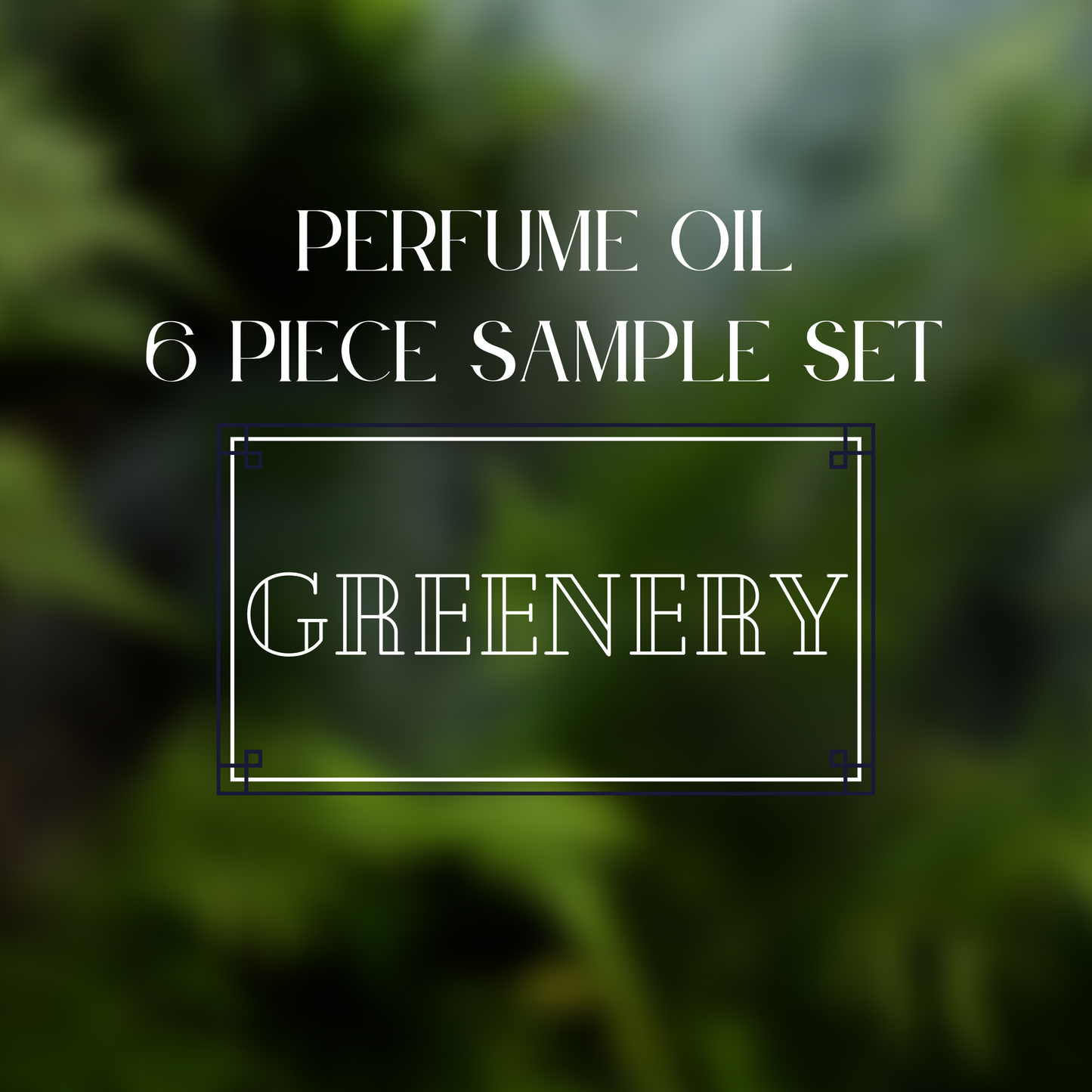 2ml Sampler Set — GREENERY perfume oil
Perfume Oil Sampler Set of 6 — Greenery
AMAZING Sampler
The only bummer is that the scents you get in the sampler might not even be available, so that's all you get. These bottles are really tiny, too, so you have to be careful not to spill them like I did. Right now the scents I really like aren't available to purchase, so I'm using a toothpick to apply very little at a time.
Deliciously green!
This was my first time trying Osmofolia and I'm in love with most of these scents. Earthling makes me feel like I'm a hobbit living in a meadow; I and thou is light and lovely; Cabin is cozy and the sweetness is very balanced so it doesn't overwhelm, Oran is very fresh and unique. I also got the Cloudgazer sampler which was lovely too!
Refreshing and Unique scents
I loved getting this sample set, in the end I think Earthling was my favorite overall. These scents are so different than a lot of perfumes you can get, I love how they're not all powdery or overly sweet like a lot of brands. if I had one recommendation for any buyers it would be to really pay attention to the base notes of any scents you're looking at, since it sticks around the longest.