osmofolia
Regular price
Sale price
$42.00 USD
Unit price
per
Sale
Sold out
This sample set contains 6 screw-top vials with 2ml perfume oil each. This sampler set is for 6 of our perfumes that feature accords or ingredients that are local to our original workshop, which was located in Walker, Minnesota:
✦AUTUMN EQUINOX: The scent of the first day of fall in Cass county. Crunchy dead leaves, crab apples from a local farm, locally grown wild rice, walnuts that have already fallen onto the soil, peeling tree bark, and chunks of pumpkin rind underfoot. [All accords in this scent were based on local ingredients, but a special shoutout to Roger from the farmer's market for allowing the perfumer to study his fragrant and flavorful crab apples!]
✦BLACKWATER LAKE: Short-needle pine branches hang over mossy lake rocks, radiant white water lilies soak in the sun, the surface of the dark lake water ripples above submerged northern watermilfoil, and a chill in the air warns of impending autumn. [All accords in this scent were based on local ingredients.]
✦CABIN: An early morning in the cabin, surrounded by Minnesotan evergreens: herbacious lavender, fresh rain, a cup of black coffee with a splash of vanilla extract, towering white cedar trees, red pine bark, and spindly black spruce needles. [White cedar, red pine, and black spruce accords were based on a scent study of the neighborhood's trees.]
✦EARTHLING: The last breath of summer as it fades into fall: a bundle of farmer's spinach and a basket of the neighbor's pears, chopped Minnesotan red cedar, bunches of wild goldenrods and elderflowers, and a sprig of juniper leaves. [All accords in this scent were based on local ingredients, but a special shoutout to Farmer D for sharing such lovely pears and spinach with the perfumer, and special thanks to Dre of Loon Lake Candles for informing the perfumer about local wildflowers!]
✦LILAS: Wet spring dew, purple lilacs, and velvet musk. [Lilac accord created around lilacs gifted to the perfumer from the local flower shop TJ's Floral & Gifts, many thanks for your generosity!]
✦SUNGROWN: A summer day in our small forest town: fresh cut grass, wild blueberries, dandelions, mimosas, patchouli, and distant bonfire smoke. [Wild blueberry accord and dandelion accord based on wild-harvested blueberries and backyard dandelions.]
Each sample vial contains 2ml perfume oil of the scent of your choice. Please visit our master scent list or the individual scent listings to see the fragrance notes & ingredients.
Our artisan fragrance products, such as this perfume oil, are final sale and not eligible for returns.
✧✦✧
HOW TO USE

When your perfume oil arrives, don't smell it straight out of the bottle! Perfume oil is meant to bloom on skin, and not all of the scent notes will be smellable out of the bottle.

First, patch test by applying the oil to a small patch of skin, like your wrist or the back of your hand. If there are any signs of irritation, discontinue use and wash off the oil!

Once you're ready to use the perfume oil, apply a generous amount to your pulse points (wrists, neck, inside of elbows, behind the ears, behind the knees).

If you like, rub the oil in, or wait until it starts to absorb into your skin.

Breathe in deeply to smell your new fragrance, and enjoy the atmosphere it creates!


✧✦✧


This listing is for six 2ml vials of perfume oil, with screw caps.

Please note that these are not fragrance oils! These are perfume oils, meaning they are designed for use on skin.


✧✦✧


Ingredients: Fractionated coconut oil, isopropyl myristate, fragrance, vitamin E oil, rosemary antioxidant CO2. Please visit individual listing pages for more detail on the ingredients of each scent.

Share
View full details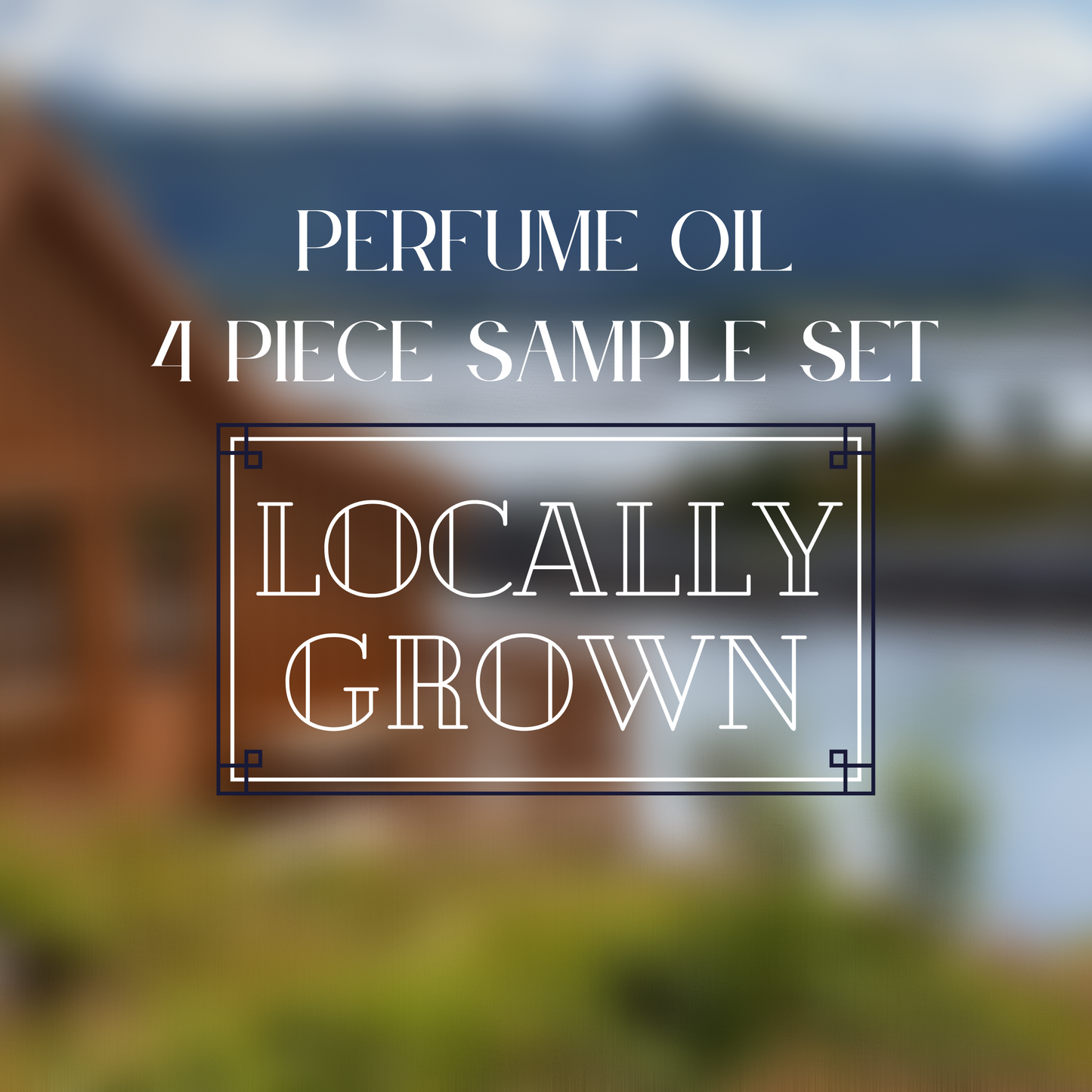 My new favorite house
I ordered a sample set for the Locally Grown collection, and have gotten the chance to test almost all of them. I got into indies about 6 years ago, and fell in love with atmospherics, and let me tell you, there are very few who do it right. My favorites are woodsy/outdoorsy smells, and Osmofolia KILLS IT. Cabin has filled a void for me from a now defunct house's perfume I've been covering the last dregs of, and I'm so, so excited to try more. Thank you, thank you, thank you for the clear love you put into these scents. I'm whisked away the moment I open a bottle.