osmofolia
Regular price
Sale price
$42.00 USD
Unit price
per
Sale
Sold out
This sample set contains 6 screw-top vials with 2ml perfume oil each. This sampler set is for 6 of our rainy day and petrichor perfumes:
✦APRIL SHOWERS:
Swirls of magnolia petals in the breeze, dewy pink lotus, tart pink grapefruit, a drizzle of rain, clear spring water, and patches of oakmoss peeking through wet branches.
✦CUMULUS: 
The classic subject of childhood drawings and vivid imaginations, the cumulus cloud: fluffy steamed white rice, baimudan white tea, soft white mimosas, sugared musk, crisp fresh air accord, balsamic vanilla orchid, orris root powder, and petrichor.
✦GEOSMIN:
Petrichor, or the scent of earth after a fresh, clean rain. 
✦LILAS:
Wet spring dew, purple lilacs, and velvet musk.
✦NIMBOSTRATUS:
Low-lying dark nimbostratus clouds and a torrential downpour of rain: black tea, rain-drenched soil, dewy violets, inky vetiver, and ominous black clouds.
✦STRATUS:
Stratus clouds drifting above a misty forest: trodden stems in damp soil, silvery osmanthus petals, stones slick with moisture, a lingering trail of deer musk, and never-ending fog.
Our artisan fragrance products, such as this perfume oil, are final sale and not eligible for returns.
✧✦✧
HOW TO USE

When your perfume oil arrives, don't smell it straight out of the bottle! Perfume oil is meant to bloom on skin, and not all of the scent notes will be smellable out of the bottle.

First, patch test by applying the oil to a small patch of skin, like your wrist or the back of your hand. If there are any signs of irritation, discontinue use and wash off the oil!

Once you're ready to use the perfume oil, apply a generous amount to your pulse points (wrists, neck, inside of elbows, behind the ears, behind the knees).

If you like, rub the oil in, or wait until it starts to absorb into your skin.

Breathe in deeply to smell your new fragrance, and enjoy the atmosphere it creates!


✧✦✧


This listing is for six 2ml vials of perfume oil, with screw caps.

Please note that these are not fragrance oils! These are perfume oils, meaning they are designed for use on skin.


✧✦✧



Ingredients: Fractionated coconut oil, isopropyl myristate, fragrance, vitamin E oil, rosemary antioxidant CO2. Please visit individual listing pages for more detail on the ingredients of each scent.
Share
View full details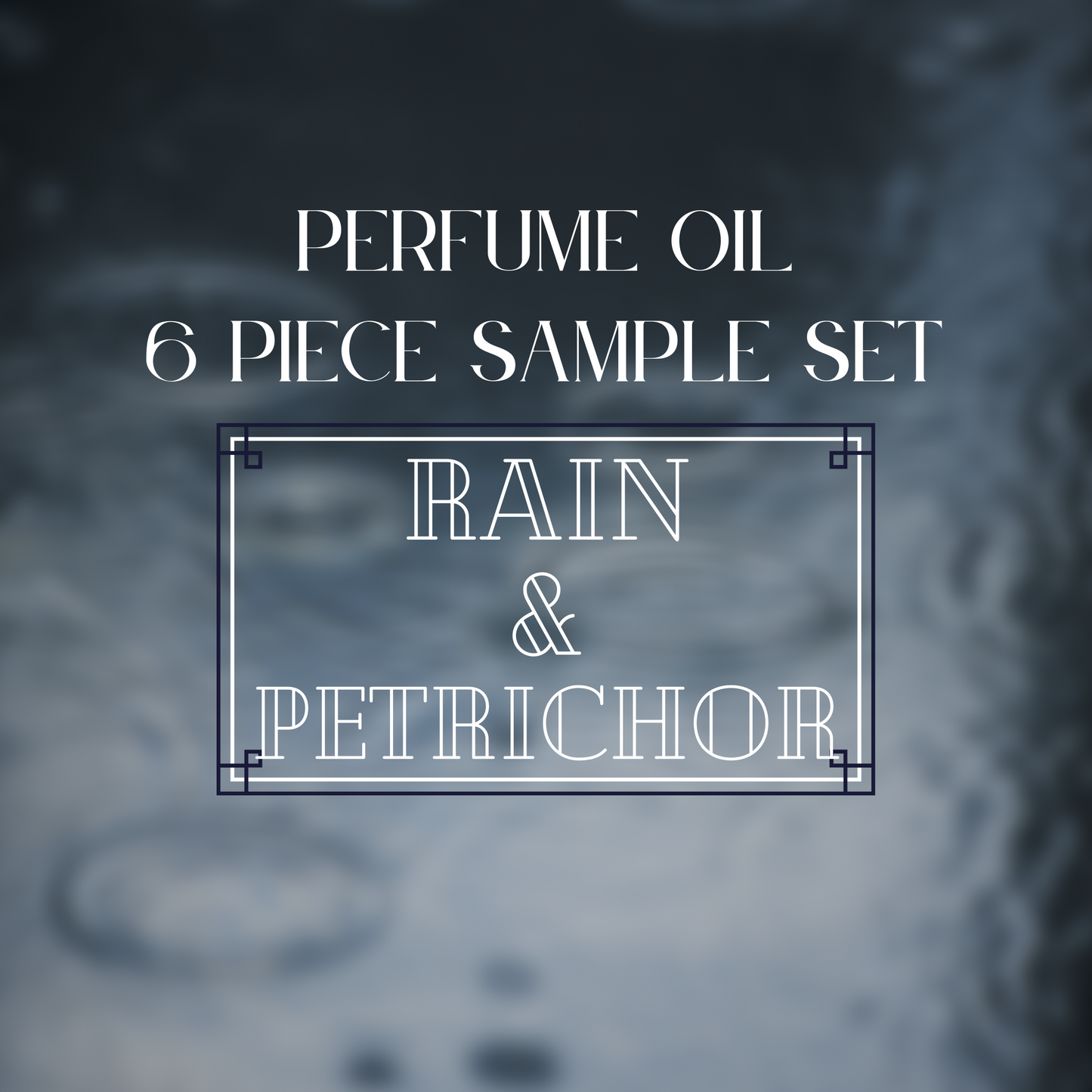 Wonderful collection
I am so pleased with this set. My very favourite is the geosmin but I really enjoy all. They have a light freshness to them and I never find them cloying over overpowering but they show up in such a beautiful way.
Collection Lives Up to Its Name
I absolutely love the scent of rain and petrichor, and this set did not disappoint. They all smelled natural and somewhere in the realm of rain and water. My personal favorite is stratus, which somehow perfectly captures the scent of a crushed and slightly decayed flower in a wet forest floor. I'm in love with the scent and am so happy to have found it! Definitely worth a buy if you are like me and love rain smells but are afraid to commit to a scent just based off of a description.