OSMOFOLIA
Regular price
Sale price
$21.00 USD
Unit price
per
Sale
Sold out
A pair of selenicereus cactus vines, one in bloom and one with fruit. Wafts of red dragonfruit and white dragonfruit, large white blossoms of cactus moonflower, humidity in the air, and sturdy cactus and fig leaves. [Vegan.]

TOP/WET: red dragonfruit ✦ cactus leaves
MID/HEART: white dragonfruit ✦ moonflower ✦ humidity
BASE/DRYDOWN: fig leaves ✦ cactus vines ✦ rose


Offered in a 5ml glass bottle with your choice of closure type (rollerball or open neck).

Our artisan fragrance products, such as this perfume oil, are final sale and not eligible for returns. If you aren't sure about a full size, we recommend trying a sample!


✧✦✧


HOW TO USE

When your perfume oil arrives, don't smell it straight out of the bottle! Perfume oil is meant to bloom on skin, and not all of the scent notes will be smellable out of the bottle.

First, patch test by applying the oil to a small patch of skin, like your wrist or the back of your hand. If there are any signs of irritation, discontinue use and wash off the oil!

Once you're ready to use the perfume oil, apply a generous amount to your pulse points (wrists, neck, inside of elbows, behind the ears, behind the knees).

If you like, rub the oil in, or wait until it starts to absorb into your skin.

Breathe in deeply to smell your new fragrance, and enjoy the atmosphere it creates!


✧✦✧


Please note that these are not fragrance oils! These are perfume oils, meaning they are designed for use on skin.
Not suitable for children, pets, oil diffusers, or for those who are pregnant or nursing. IPM perfume oil base available on request—please send us a message!

✧✦✧

Ingredients: Fractionated coconut oil, isopropyl myristate, vitamin e oil, rosemary antioxidant CO2, Bulgarian rose absolute, jasmine sambac absolute, roman chamomile essential oil, cardamom CO2, bergapten-free bergamot essential oil, violet leaf absolute, blood orange essential oil, clove bud essential oil, coconut pulp CO2, galbanum CO2, red champaca CO2, jasmine grandiflorum absolute, ylang ylang fine essential oil, cis-3-hexenol, terpineol alpha, linalool, geraniol, citral, petitgrain essential oil, ethyl vanillin, vanillin, methyl diantilis, ethyl maltol, delta decalactone, aldehyde C-18, gamma octalactone, Coumarex DB, methyl laitone, helional, benzyl alcohol, benzyl acetate, phenylacetal dimethyl acetal, hedione, cis-3-hexenyl salicylate, heliotropin, citronellyl acetate, stemone, ethylene brassylate, auranone, Cassis Givco 149/2, habanolide, clearwood, Jasmine Specialty, melonal, methyl anthranilate, indolene, javanol, florhydral, floralozone, dimethyl octenone, freskomenthe, leafovert, methyl benzoate, dihydro eugenol, phenyl ethyl alcohol, benzyl salicylate, Rose Givco 217, lilybelle, indolarome, ionone beta, Auralva, raspberry ketone, iso e super, meijiff, nerolidol, ambrettolide, aquaflora, velvione, dihydro myrcenol, orange terpenes, verdox, cis-3-hexenyl acetate, hydroxycitronellol. Contains natural extracts of Bulgarian rose, jasmine sambac, roman chamomile, cardamom, bergamot, violet leaf, blood orange, clove bod, coconut pulp, galbanum, jasmine grandiflorum, ylang ylang, champaca, and petitgrain.
Share
View full details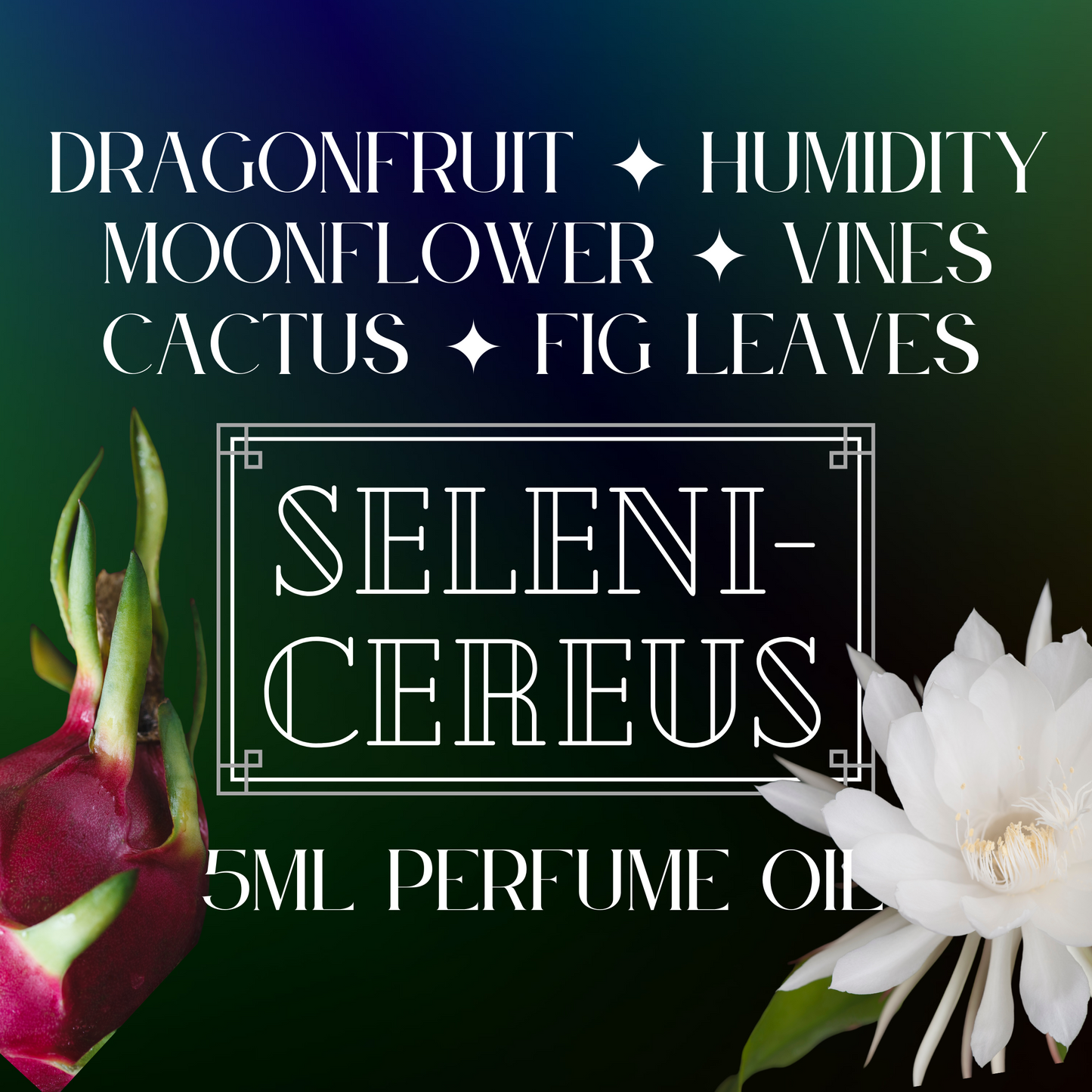 Perfect!
Probably the only scent I own that makes me excited for warmer weather. I bought this on a whim while searching for scents for the summer season and couldn't be any happier. SELENICEREUS manages to be green, fruity, and floral in equal measure. It's definitely a unique scent but I'd still be comfortable wearing this in an office environment. I definitely look forward to trying more!
Really unique and cool
I am delighted by this smell. It's a really unique and fascinating mix of optimistic warmth and brightness but also a grounded, sophisticated sharp (almost bitter?) dryness and green-ness (kind of like when you cut the stems of a bouquet of flowers). The florals are not overwhelming at all. It's very fresh and feels like the perfect scent for a tropical vacation, I think!