OSMOFOLIA
Regular price
Sale price
$21.00 USD
Unit price
per
Sale
Sold out
Selected as a finalist for the 2023 Art & Olfaction Awards!

Amid dark days and cold nights, Solario evokes a carefree moment of enjoyment: the sensation of basking in the heat and light of the sun, without a care in the world. Sunlight spills out with top notes of sparkling bergamot and bright blood orange, then slowly bakes into the warmth of toasted saffron and peaceful hinoki. A whisper of rose, grounded by agarwood and sandalwood, breathes life and heat onto the skin. From the opening through the drydown, an accord of golden solar amber conjures the luxury of contentment, and sinks into a body and a mind warmed by the sun.

Golden sunlit amber: de Laire's renowned smooth amber 83 base built on accords of sandalwood, oud, and hinoki. A pinch of saffron threads for warmth, hints of rose and spice, and a soft ambrette musk oil. [Vegan.]

TOP/WET: toasted saffron ✦ hinoki ✦ citrus
MID/HEART: rose ✦ ambrette musk ✦ tuberose
BASE/DRYDOWN: amber ✦ sandalwood ✦ oud



Offered in a 5ml glass bottle with your choice of closure type (rollerball or open neck).

Our artisan fragrance products, such as this perfume oil, are final sale and not eligible for returns. If you aren't sure about a full size, we recommend trying a sample!


✧✦✧


HOW TO USE

When your perfume oil arrives, don't smell it straight out of the bottle! Perfume oil is meant to bloom on skin, and not all of the scent notes will be smellable out of the bottle.

First, patch test by applying the oil to a small patch of skin, like your wrist or the back of your hand. If there are any signs of irritation, discontinue use and wash off the oil!

Once you're ready to use the perfume oil, apply a generous amount to your pulse points (wrists, neck, inside of elbows, behind the ears, behind the knees).

If you like, rub the oil in, or wait until it starts to absorb into your skin.

Breathe in deeply to smell your new fragrance, and enjoy the atmosphere it creates!


✧✦✧


Please note that these are not fragrance oils! These are perfume oils, meaning they are designed for use on skin.
Not suitable for children, pets, oil diffusers, or for those who are pregnant or nursing. IPM perfume oil base available on request—please send us a message!

✧✦✧


Ingredients: Fractionated coconut oil, isopropyl myristate, fragrance, vitamin E oil, rosemary antioxidant CO2, labdanum absolute, benzoin resinoid, tolu balsam resinoid, olibanum resinoid, patchouli essential oil, Bourbon vetiver, ambrettolide, Amber 8300, vanillin, ethyl vanillin, fenugreek CO2, methyl diantilis, romandolide, edenolide, silvanone supra, zenolide, Rose Givco 217, gamma nonlactone, benzyl alcohol, hedione, methyl laitone, Sandalwood Givco 203/20, benzyl salicylate, hinoki essential oil, PK Tuberose, Black Agar Givco 215, Metallic Saffron Essence, bergapten-free bergamot essential oil, blood orange essential oil. Contains natural extracts of labdanum, benzoin, tolu balsam, olibanum, patchouli, vetiver, fenugreek, hinoki, bergamot, and blood orange.

Share
View full details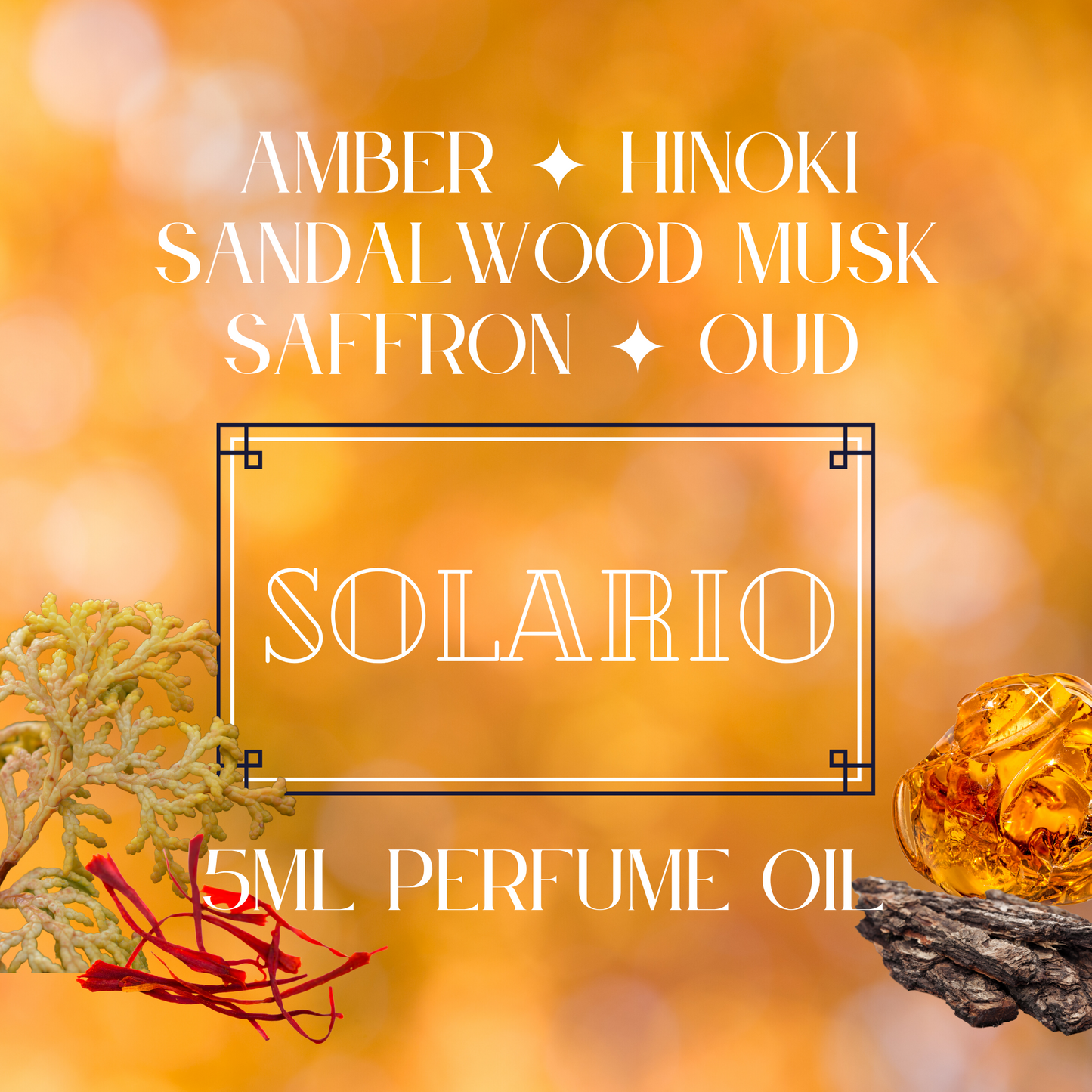 Nice but I love the sample of Iso e Supremo even more!
I found Solario to be a pleasant fragrance however it is has a little too much Sandalwood for me so it hasn't become an everyday fragrance in my lineup. However I was also sent a small sample of Iso e Super. Which is wonderful and I am ordering a larger bottle now!
Warm & Inviting
This scent is absolutely spectacular. I don't normally go crazy for sandalwood notes but it isn't overpowering. Very alluring. It smells like what a perfect summer day feels like.
Lovely
That's the first word that came to my mind when I put it on. It's just beautiful. Light, not overbearing, just perfect and sunny and warm.
Stunning
I can smell the sun on the skin. Very relaxing I wear it to bed for a warm cozy sleep.
OBSESSED
I wish this was an EDP…. I love it so much. The fragrance is so so good. My only "meh" is that it is an oil - which I just don't love the feel of. I suffer through that because the fragrance is JUST THAT GOOD. I'd love to be able to spritz myself with this before getting into bed.