OSMOFOLIA
Regular price
Sale price
$21.00 USD
Unit price
per
Sale
Sold out
The classic subject of childhood drawings and vivid imaginations, the cumulus cloud: fluffy steamed white rice, baimudan white tea, soft white mimosas, sugared musk, crisp fresh air accord, balsamic vanilla orchid, orris root powder, and petrichor.

TOP/WET: white rice ✦ fresh air
MID/HEART: white tea ✦ white mimosas ✦ sugar
BASE/DRYDOWN: orris root ✦ vanilla orchid ✦ petrichor


Offered in a 5ml glass bottle with your choice of closure type (rollerball or open neck).

Our artisan fragrance products, such as this perfume oil, are final sale and not eligible for returns. If you aren't sure about a full size, we recommend trying a sample!


✧✦✧


HOW TO USE

When your perfume oil arrives, don't smell it straight out of the bottle! Perfume oil is meant to bloom on skin, and not all of the scent notes will be smellable out of the bottle.

First, patch test by applying the oil to a small patch of skin, like your wrist or the back of your hand. If there are any signs of irritation, discontinue use and wash off the oil!

Once you're ready to use the perfume oil, apply a generous amount to your pulse points (wrists, neck, inside of elbows, behind the ears, behind the knees).

If you like, rub the oil in, or wait until it starts to absorb into your skin.

Breathe in deeply to smell your new fragrance, and enjoy the atmosphere it creates!


✧✦✧


Please note that these are not fragrance oils! These are perfume oils, meaning they are designed for use on skin.
Not suitable for children, pets, oil diffusers, or for those who are pregnant or nursing. IPM perfume oil base available on request—please send us a message!

✧✦✧



Ingredients: Fractionated coconut oil, isopropyl myristate, fragrance, vitamin E oil, rosemary antioxidant CO2, vanillin, ethyl vanillin, veratraldehyde, Orris Givco 204/20, orris root butter, salicynile, amyl salicylate, isoamyl salicylate, helional, edenolide, habanolide, adoxal, velvione, ethylene brassylate, Heliotropex N, geosmin, cascalone, bran absolute, clearwood, Coumarex DB, phenyl ethyl alcohol, auranone, ultrazur, dupical, mysoral, PK fixative base, methyl diantilis, ethyl maltol, floralozone, ozofleur, cosmone, hedione, Lindenblossom Givco 151/8, meijiff, delphol, florosa, iso e super, 2-acetyl thiazole, 2-acetyl pyridine, linalool, methyl laitone, nerolidol, clary sage essential oil, benzaldehyde, benzyl benzoate, butyl butyro lactate. Contains natural extracts of orris root, wheat bran, and clary sage.

Share
View full details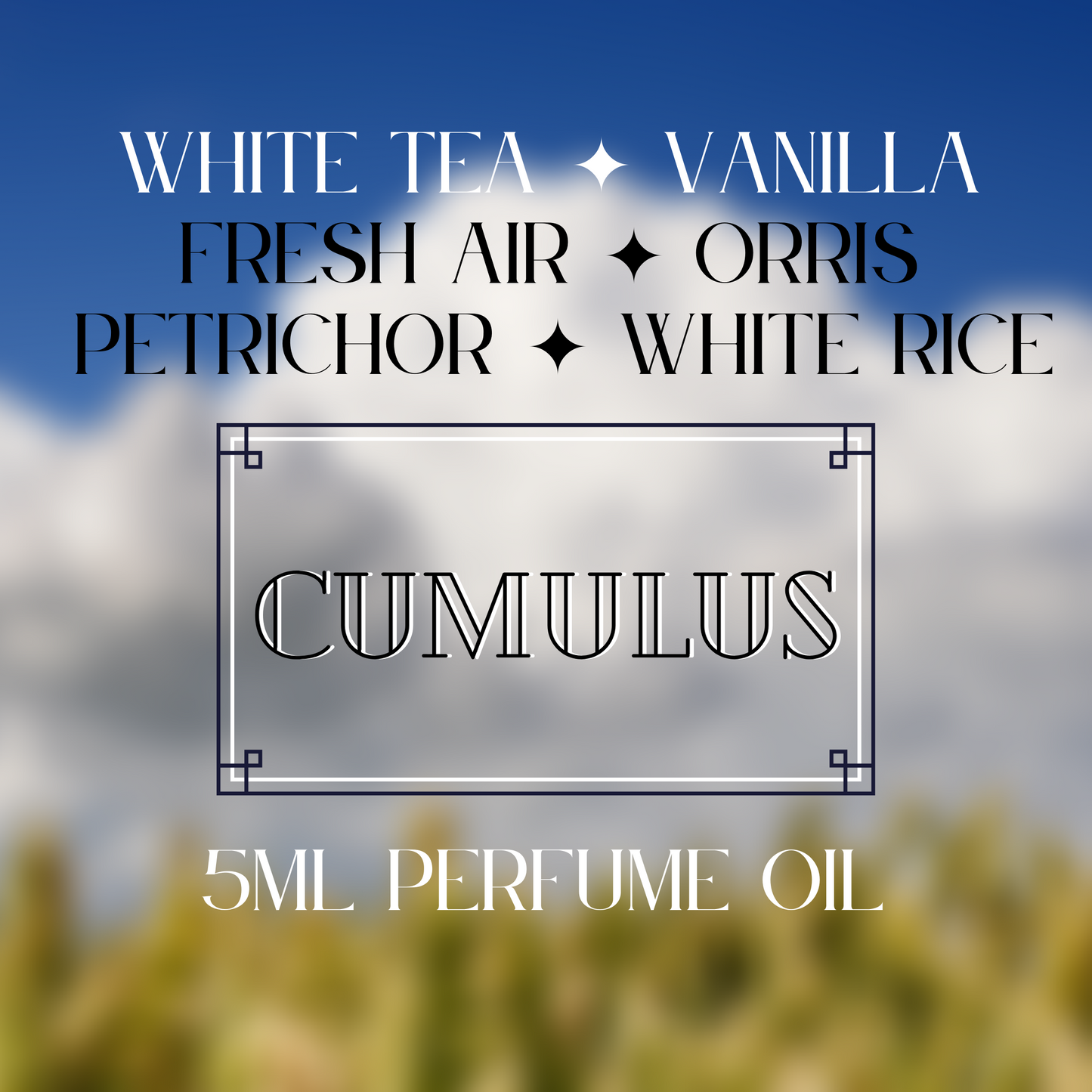 I'm obsessed!
I could not be happier with this purchase! This perfume smells exactly like you would imagine a cloud to smell. I am in love with it and wear it all the time! 10/10, I definitely recommend!
Heaven
The notes are incredibly accurate. It starts with a strong rice note that is surrounded by a soft and fresh, atmospheric tea. It's stronger and lasts longer than expected for such a delicate sceny. The dry down is creamy and soft. Sweet without being cloying. Like an iced horchata. It's an absolute dream.