OSMOFOLIA
Regular price
Sale price
$21.00 USD
Unit price
per
Sale
Sold out
Low-lying dark nimbostratus clouds and a torrential downpour of rain: black tea, rain-drenched soil, dewy violets, inky vetiver, and ominous black clouds.

TOP/WET: black tea ✦ ozone
MID/HEART: violets ✦ humidity ✦ rainfall
BASE/DRYDOWN: vetiver ✦ ambergris ✦ soil ✦ petrichor


Offered in a 5ml glass bottle with your choice of closure type (rollerball or open neck).

Our artisan fragrance products, such as this perfume oil, are final sale and not eligible for returns. If you aren't sure about a full size, we recommend trying a sample!


✧✦✧


HOW TO USE

When your perfume oil arrives, don't smell it straight out of the bottle! Perfume oil is meant to bloom on skin, and not all of the scent notes will be smellable out of the bottle.

First, patch test by applying the oil to a small patch of skin, like your wrist or the back of your hand. If there are any signs of irritation, discontinue use and wash off the oil!

Once you're ready to use the perfume oil, apply a generous amount to your pulse points (wrists, neck, inside of elbows, behind the ears, behind the knees).

If you like, rub the oil in, or wait until it starts to absorb into your skin.

Breathe in deeply to smell your new fragrance, and enjoy the atmosphere it creates!


✧✦✧


Please note that these are not fragrance oils! These are perfume oils, meaning they are designed for use on skin.
Not suitable for children, pets, oil diffusers, or for those who are pregnant or nursing. IPM perfume oil base available on request—please send us a message!

✧✦✧
Ingredients: Fractionated coconut oil, isopropyl myristate, fragrance, vitamin E oil, rosemary antioxidant CO2, geosmin, Haitian vetiver essential oil, labdanum absolute, adoxal, beta ionone, romandolide, habanolide, ultrazur, dupical, rectified birch tar, clearwood, phenyl ethyl alcohol, isoamyl salicylate, hay absolute, edenolide, linalool, geraniol, nerolidol, Black Tea Natural (Robertet), coffee CO2, ionone alpha, melonal, methyl ionone gamma, Orris Givco 204/20, violet leaf absolute, Violet Key Accord, terrasol. Contains natural extracts of vetiver, labdanum, birch tar, hay, coffee, and violet leaf.

Share
View full details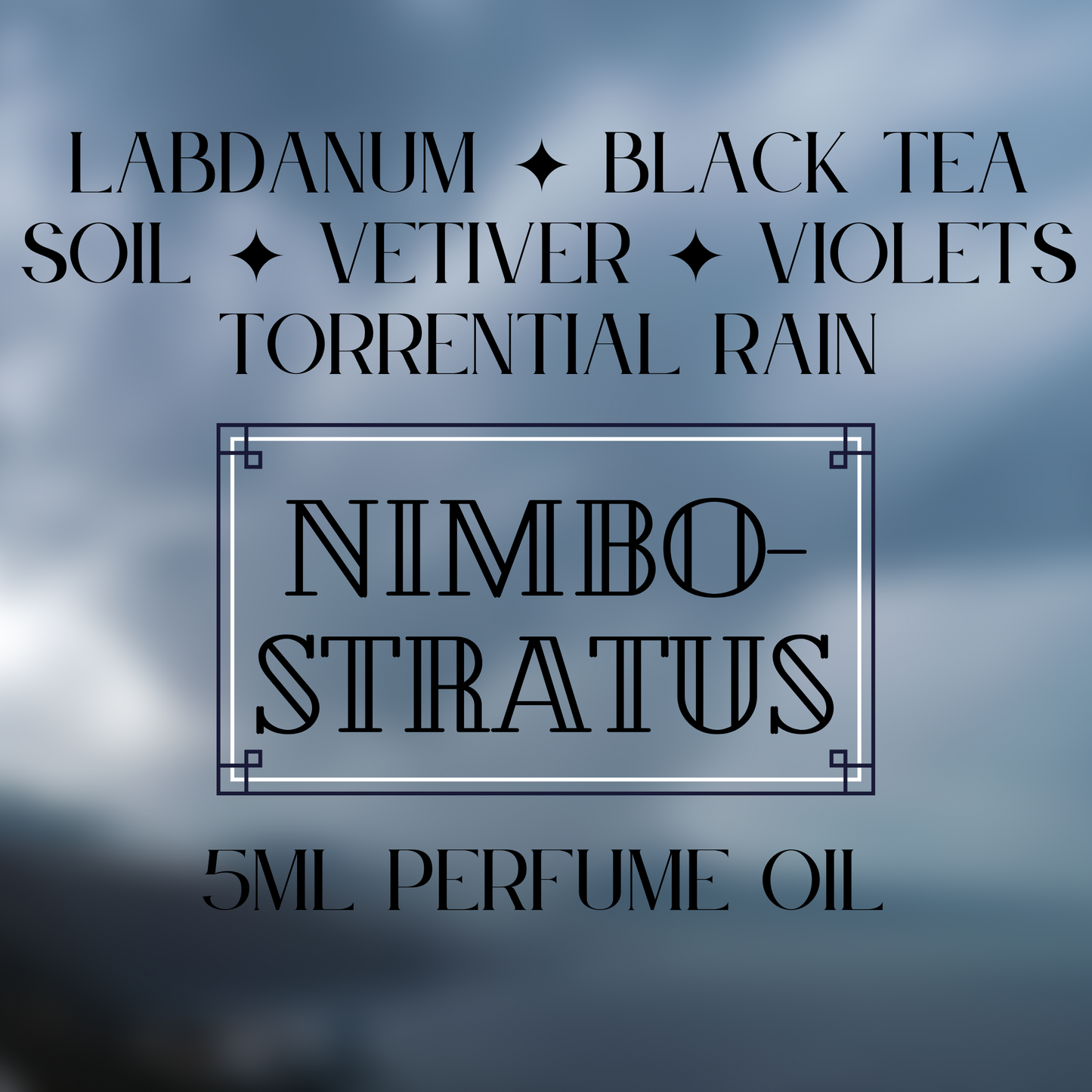 Nimbostratus smells exactly like moments before a rainstorm, very realistic and absolutely wonderful. It's incredible on its own as well as layered; I love using it to add more atmosphere to some scents!
I'll definitely get a full-size once I get through the sample!
Fairy 🧚‍♀️
This purfume makes me think of faries. Sweet flowers and sunshine with a touch of Earth. I've been very impressed with all my orders!
I take my tea black and with petrichor
As a petrichor connoisseur I've got to say Osmofolia may have the best! I also really appreciated the blog post explaining this unique note. Nimbostratus is a realistic storm scent that also manages to capture the personality of a massive raincloud. The tea is dark and musky painting a moody dark grey image in the mind. Underneath is beautiful soaking wet petrichor, the scent of the earth after hours of soaking rain. I don't get a whole lot of Violet just a hint if I look for it. I live in the Pacific Northwest and this scent feels like home while also being extremely brooding. I love it ! Thank you for making such evocative perfume. I can't wait to try more !
The Perfect Perfume
This is by far the best smelling perfume I've ever had the pleasure of owning. In the best way, the scent truly evokes the memory of dark rainy days and damp earthy vegetation - perfect for those looking for a unique and mysterious perfume. In my experience, this perfume has routinely lasted for 6+ hours, and has a wonderful transition between top, middle, and base notes. I can't recommend this perfume enough, I'm blown away every time I wear it!